January 17,2020 |

TRIADVOCATES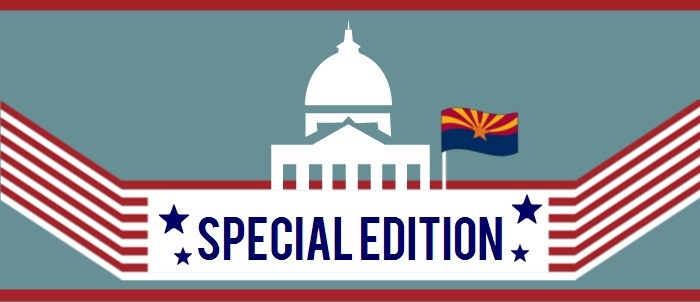 January 17, 2020


This afternoon, Gov. Doug Ducey unveiled his FY 2021 Executive Budget—a $12.3 billion spending plan that boosts state spending by $727 million, roughly 6%, over the budget enacted last year.
Highlights of the budget proposal include:

K-12 Education

$175 million for the last piece of a three-year plan to boost teacher salaries by 20%;

$44 million to fund what's being called Project Rocket, a program to give $150-per-student grants to certain low-performing schools and schools with a high percentage of students living in poverty (the money, $44 million per year for three years spread among 554 district and charter schools, would have to be spent on "proven turnaround strategies");

funding to fully restore – two years ahead of schedule – the money schools get for textbooks, school buses, technology and other needs, which was cut during the economic downturn;

$35 million to expand the state's results-based funding program, bringing it to $107 million in total, which pencils out to roughly $225 to $400 per student;

$38 million in additional funding for the state's school safety grant program, which would cover more than 400 new school counselors, social workers and on-campus police officers;

an additional $35 million, a 44% increase, for the School Facilities Board, the state agency that funds construction and major repairs
Higher Education

$35 million to universities for a "New Economy Initiative" targeted at specific fields and at increasing the number of graduates in high-demand industries like coding and artificial intelligence, while reducing the amount of time to get a degree;

$35 million in operational money for the universities (including $10 million in state matching funds for research);

an additional $1 million for the Arizona Teachers Academy, which allows future teachers to receive free college if they teach in Arizona after graduation;

$11 million to fully fund STEM and workforce programs formulas for Maricopa, Pima and Pinal community college districts;
Corrections

$33 million to transfer more than 3,800 inmates currently housed in the Florence prison to private and county facilities (closure of the state's oldest prison is projected to save between $150 million and $400 million that would be needed to maintain the facility);

allocates $48 million to fix broken locks and fire, heating and air-conditioning systems at the Lewis and Yuma state prisons;

$42 million to fund a 5% pay raise for correctional officers, who received 10% pay raises last year, as part of a retention strategy designed to address ongoing staffing shortages;

$8 million from the state's medical marijuana fund to fund substance abuse treatment programs;
Public Safety

$5 million to equip all sworn DPS officers with body cameras;

$15 million to replace two of the Department of Public Safety's five helicopters;

$20 million lease-purchase plan for its patrol vehicles designed to replace all vehicles by 2026;

$16 million to upgrade the state police radio network;

$421 million in investments spread over several projects, including new bullet-proof vests and helmets, computer replacements and crime lab testing;

$2 million to establish a DUI Investigative Task Force;

$24 million to the Secretary of State's Office to manage this year's election and improve cybersecurity;
Infrastructure

$28 million in state cash for a new I-10 bridge over the Gila River—the missing link in an ongoing $78 million project to widen the corridor linking Phoenix and Tucson;

$60 million to lay broadband conduit along Interstates 40, 17 and 19, which would enable the state to deploy "smart highway" technologies, including wrong-way driver detectors, and increase telecommunication access in rural areas;

$1 million to market state parks and other rural destinations throughout the state; and
Rainy Day Fund

a $25 million deposit into Arizona's Rainy Day Fund, the state savings account.

To download the Executive Budget Summary, click here.
The governor's budget proposal essentially serves as his opening bid, as he'll spend the coming months negotiating a final budget with the GOP-controlled Legislature.
Senate Republicans released their own budget framework today, which included about $100 million less in general fund spending but didn't stray too far from the governor's proposal—a promising sign that we could see a short(er) legislative session this year. The House Republicans said they would put out a separate plan "at the appropriate time" (a page straight from Robert's Rules of Poker).
While Democrats in both chambers responded positively to the proposed increases in education funding and a few other aspects of the governor's proposal, they said the final spending plan should avoid tax cuts and include funding to expand healthcare coverage, institute a climate change action plan and combat homelessness.
Let the games begin.