October 29,2020 |

TRIADVOCATES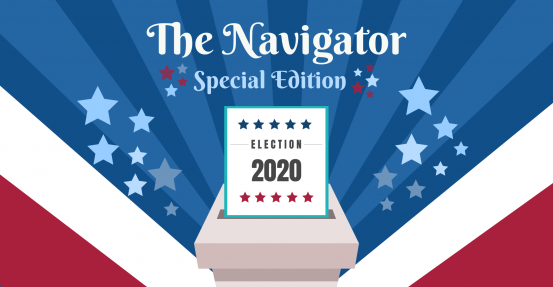 All eyes on Arizona
Long considered a GOP stronghold, Arizona is an example of how changing demographics and moderates have shifted the political landscape. It is now a key battleground state and one of half a dozen states that hold the balance of presidential power. Under any reasonable scenario, Trump needs to win at least Michigan, Pennsylvania or Wisconsin to take the presidency, assuming he carries Florida and North Carolina. But with 11 crucial electoral votes, Arizona's emergence as a swing state could either open more paths to 270 for him, or it could throw a major wrench into his re-election bid, providing a lifeline to Biden. While Maricopa County was the most populous county Trump won in 2016, the county has experienced recent dramatic growth and is now almost evenly split among Republicans, Democrats and independents.


In addition to the presidency, the U.S. Senate race in Arizona is among the 13 nationwide that will determine whether Democrats flip that chamber. Democratic Senate candidate Mark Kelly, the former astronaut and husband of the former Arizona congresswoman Gabby Giffords, is challenging GOP Sen. Martha McSally in a special election for the seat once occupied by the late U.S. Sen. John McCain. And to make things even more dramatic, because McSally was appointed to replace McCain, if Kelly wins, he could be seated in the Senate as early as Nov. 30, six weeks before the other winners are sworn in. If Kelly wins, he will join fellow Democrat Kyrsten Sinema, who defeated McSally in 2018, which would mark the first time in nearly 70 years that Arizona would have two Democrats in the U.S. Senate.
Political ad spending in Arizona is projected to exceed $200 million this year, across TV, radio and digital, ranking among the highest amounts of political spending in this election cycle. While it remains unclear how effective those ads have been, one thing is certain: Arizona voters are more engaged than ever before. Early voting in Arizona surged nearly 100% in the three most-populous counties compared to 2018, with Maricopa County shattering the record for highest number of in-person voters on the first day of early voting. As of Monday, the 1.17 million ballots returned in Maricopa County, 457,000 (39%) were from Democrats; 422,000 (36%) were from Republicans; and 285,000 (24%) were from independent voters. An important clarification: these numbers don't indicate how the individual voted—just simply that the voter returned a ballot.


---
Hurry up and wait
One thing to keep in mind as you're watching results roll in next Tuesday night: The first results you'll see will reflect early ballots counted before Election Day. They'll be posted online here just after 8 p.m. But mail-in ballots dropped off on Election Day must go through the same process as all of the other mail ballots, including signature verification. Election officials will also be grappling with backlogs of mail ballots received prior to Election Day but not processed in time to be part of the first batch of results. So, just remember on election night, when news networks call races, many votes have not yet been counted. Pundits may make a projection based on initial results and exit polling but election results aren't final until the official canvass takes place on Nov. 30. Two years ago, we saw a number of candidates "win" on election night, only to have those victories vanish as additional ballots were counted after Election Day.
PSA: If you live in Arizona and still have your mail-in ballot, it's too late to mail it in. You can, however, drop it off at your County Recorder's Office, any official drop-box or drop-off location, or any voting location in your county. All that info is available here.


---
Now that's a lot of mail
It's a record-breaking year for spending on Arizona legislative races. Millions of dollars, most of which are flowing in from out-of-state interests, are being spent to influence the outcome of a handful of legislative races. Some districts have seen more than $1.5 million of independent expenditure dollars. To put that in perspective, in years past it was rare to see even a tenth of that being spent on a legislative race. This year, left-leaning groups tend to be outspending conservatives as they attempt to gain control of the entire Arizona Legislature. But, at this point in time, it appears the Democrats have a better chance of taking the House than the Senate. Because of the incredible amount of outside money, it is difficult to predict who is going to win as each party has polling showing their candidate winning. Rather than one party gaining a majority, another possibility is that one or both chambers could end in a tie (House: 30-30, Senate: 15-15)—a scenario that comes with an entirely new set of challenges, particularly when it comes to leadership races. While very rare, this has actually happened once in our state—back in 2000, the Democrats managed to split the Senate, although the equity was short lived. Another trivia fact to stick in your back pocket: Democrats haven't controlled the state House in Arizona for more than 50 years (since 1966) and haven't controlled the Senate since 1992.


---
Forever? Forever, ever?
After extensive court battles, hours of TV ads, endless shiny mailers, and nonstop political text messages, next Tuesday, Arizonans will have the final say on two citizen-led initiatives. And "final say" is no exaggeration; if passed, they'll be nearly impossible to amend. Here's why: In 1998, Arizona voters passed the Voter Protection Act (VPA) to ensure the state Legislature could not easily undo the will of the people. The VPA is an amendment to the state constitution that prohibits legislators from altering, modifying, or repealing voter-approved ballot initiatives—unless such amendments "further the purpose" of the measure and the amendment is approved by a three-fourths vote of both chambers. As a result, voter-approved initiatives are pretty much locked in stone and are typically only changed by the voters in future elections.
This year's ballot measures will test the impact that campaign funding has on voters, as both of the "YES" campaigns are spending significantly more than the "NO" committees. As a refresher, here's an overview of the two statewide propositions:


Proposition 207 – Smart and Safe Arizona Act
The official legal spiel: Seeks to legalize the recreational use of marijuana, allowing adults (21+) to possess as much as an ounce of marijuana, and proposes a 16% excise tax (the same as cigarettes and alcohol), with new revenues directed mostly toward community colleges and public safety. Also requires the Arizona Department of Health Services (ADHS) to establish recreational marijuana regulations on or before June 1, 2021.You can find the full text here.
Issue at a glance: This initiative is asking voters to legalize the recreational use of marijuana. In addition to Arizona, three other states will be voting on the issue next week: Montana, New Jersey and South Dakota. To date, 11 states and the District of Columbia have legalized recreational marijuana for adults (21+) while 33 states plus the District of Columbia have legalized medical marijuana.
What the "YES" side is saying: Proponents argue the state could use the additional revenue due to the economic impact of COVID. They also argue the judicial system is clogged with minor marijuana offenses, and that decriminalizing marijuana will allow the court system to focus on more dangerous crimes while creating a pathway for criminal justice reform.
What the "NO" side is saying: Opponents argue that the other states that have legalized marijuana have seen more traffic accidents, increase in teenage drug use and unsafe workplaces. They also argue that the measure was designed to benefit the top marijuana sellers, who have invested more than $5 million to support the initiative.
Proposition 208 – Invest in Education Act
The official legal spiel: Creates a 3.5% tax surcharge on incomes of more than $250,000 for individual filers and $500,000 for couples, with the revenue going to fund K-12 schools. Similar to what educators proposed two years ago, this version of the "Invest in Ed" measure would raise an estimated $940 million annually for public education. You can find the full text here.
Issue at a glance: This initiative is asking voters to increase public school funding through an income tax increase on the wealthiest Arizonans.
What the "YES" side is saying: The "YES" campaign says the measure will replace the funding cuts public schools have received over the past decade. They argue the additional funds will help address Arizona's teacher shortage and large class sizes. It is estimated the tax increase will raise an estimated $940 million in new revenue for our public schools.
What the "NO" side is saying: According to the "NO" campaign – which includes chambers of commerce across the state, along with business, real estate and economic development groups – while the ballot initiative is intended to tax top earners in the state, it also will affect a large number of small and independent businesses. Gov. Doug Ducey says it will place too high of a burden on small businesses, requiring them to pay nearly double what corporations pay in income tax, which would put Arizona at a disadvantage when it comes to competitive edge with other states.
And finally, the good news
At the beginning of the COVID lockdown, many legislative leaders were predicting a severe state budget shortfall that would result in large cuts across all agencies. Now, just a couple of months later, the Joint Legislative Budget Committee is saying earlier forecasts were much too pessimistic, with projections now showing the state will have a cash balance of $411 million at the end of FY 2021. Most sectors, with the exception of restaurants and bars, are exceeding last year's revenue numbers and sales tax collections were 10.3% above September of last year. While many small businesses continue to be hurt by COVID, the overall state picture is looking at least a little rosier. Hey, we'll take it.