January 17,2018 |

Triadvocates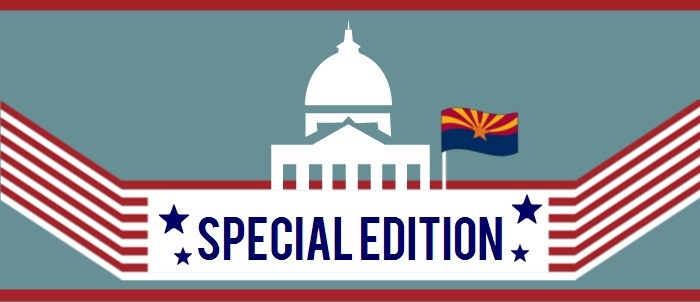 Last Friday, Gov. Doug Ducey unveiled his FY 2019 Executive Budget—a $10.1 billion spending plan that dedicates 80% of new discretionary spending to K-12 funding. Here are the highlights:​

Invests a total of $400M in K-12 education, including:​

​$100M for Additional Assistance, and a commitment to phase in over five years a full restoration of $371M per year in Additional Assistance with an incremental growth of $68M per year until 2023;

$116M for inflation and enrollment growth;

$5.1M for SFB new school construction to generate $88M in bonding financed through 25-year certification of participation (3 schools in Chandler, 1 school in Queen Creek, 1 school in Tolleson);

$35.2M for building renewal grants to improve or repair aging school facilities, plus $10M in supplemental funding for additional grants in FY 2018;

$34M for the second year of the 1% teacher salary increase, and moving the total increase into the base level to ensure it will be adjusted for inflation every year;

$2.5M to expand the K-12 Computer Science pilot program that will allow schools to offer high-quality training for new computer science teachers; and

$2M to fully fund large JTEDs (2,000+ students).

In addition to education, key initiatives in the budget include:

$27M for the first year of a facilities bonding program at the UofA, ASU and NAU;

$8M in flexible spending allowed at the three universities;

$25.6M from the State Highway Fund for preventative highway maintenance;

$24M to improve the National Guard Readiness Center near Tucson;

$15.8M to pay for the adoption subsidy for more than 33,000 children;

$4M to improve Oracle State Park north of Tucson;

$2.5M to improve Buckskin Mountain State Park on the Colorado River;

$2.9M to hire 11 new troopers and one sergeant for the Border Strike Force in southern Arizona;

$1.7 to provide substance abuse treatment to additional 1,560 inmates each year;

$1.4M to expand education services to 486 more inmates each year;

$449,900 to expand "Second Chance" centers to reduce prison recidivism, which will add 975 inmates to employment training programs each year;

$1.4M to increase night patrols on Phoenix-area freeways, including hiring six new troopers to enhance the Wrong-Way Driver Night Watch in an effort to improve response times to wrong-way and impaired drivers;

$1M for food banks to provide more "farm fresh" food;

$758,000 to hire three new law-enforcement officers to work with federal agents on opioid issues; and

Provides $15 million in tax relief to Arizona veterans who receive retirement benefits, phased-in over two years.
To download the Executive Budget Summary, click here.


While this proposal serves as a starting point for budget discussions, negotiations this year may not be as contentious as we've previously seen. Last week, legislative leadership, several high-ranking legislators and 54 school superintendents publicly stood in support of Gov. Ducey's education funding proposal.


At this point, early signs indicate that this will be a speedy legislative session—some are predicting that we could wrap by April 17. There's still plenty of time for the Legislature to derail that plan, but we'll keep our fingers crossed.